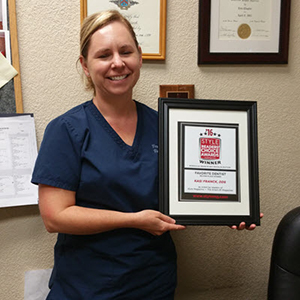 Rocklin Dentist Franck Family Dental Is Selected 2016 "Best Rocklin Dental Office" By Readers of Rocklin's Placer Herald
Rocklin, Ca. – Rocklin Dentist, Dr. Kasi Franck, announced that Franck Family Dental has been selected as the 2016 "Best Dental Office In Rocklin". This is the seventh year in a row that readers of Rocklin's Placer Herald have selected Dr. Kasi Franck and the staff at Franck Family Dental as the best Rocklin dental office.
The annual "Best of the Best" is a reader's choice selection run by the Rocklin's Placer Herald newspaper. The awards were announced at the July 2016 event. The winners are celebrated local services, restaurants and businesses that make Rocklin, California a great place to work, live and play.
Franck Family Dental office is excited to once again be chosen for the 'Best of the Best' Dental Office award. "We very much like to thank our patients, and friends for their continued support in voting for our selection as the "Best Dental Office in Rocklin". We sincerely appreciate the ongoing confidence and recognition our patients place in us for their health care and dental needs" said Dr. Kasi Franck.
"The Best of the Best is a way to give readers and businesses an insight into what is on offer in Rocklin, and what people are responding to. It highlights some of what people love in their community, and once again they've chosen to support Franck Family Dental." Andrew Westrope, Editor of Rocklin's Placer Herald
About Franck Family Dental:
Franck Family Dental provides family and kids dentistry in Rocklin & Roseville California, and Sacramento metro areas. Franck Family Dental treats your family with a caring, and personal touch for all of your dental health care needs. Kasi Franck, DDS has a Doctor of Dental Surgery degree from the University of Southern California (USC). Dr. Franck is a member of the Sacramento District Dental Society, California Dental Association and the American Dental Association. For more information, visit http://www.FranckFamilyDental.com or call 916-415-1913.