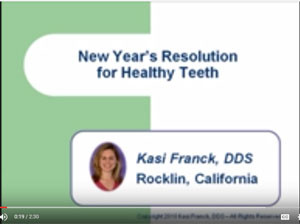 Franck Family Dental in Rocklin California announced today the launch of a new online dental education series. The video series will provide families with informed information on good dental practices that help keep teeth healthy and promote good overall health.
The first video in the series is now available not only for Dr. Franck's patients, but for everyone visiting Dr. Franck's YouTube channel "RocklinDentist".
"We are excited to launch this new educational series and have it available to our patients and their families," commented Dr. Franck. "Online video makes providing important dental information to the whole family so easy."
The series will provide families with the latest information on good dental care that helps keep their teeth and gums healthy for life.
The first video in the series "New Years Resolutions for Healthy Teeth" covers the foundation of good dental health with 7 simple tips.
Regular teeth brushing.
Importance of using fluoride toothpaste
Why you should change your toothbrush every 3 months
Properly floss your teeth
The importance of using a mouth rinse.
Why you should eat healthy meals and snacks
The need to visit your dentist for regular checkups.
The video can be viewed on Dr. Franck's YouTube channel at:
http://www.youtube.com/watch?v=To-rSIxlr7Q
To access the video and a transcript, visit the Franck Family Dental web site:
http://www.franckfamilydental.com/blog/
The next video in the series will cover "Dental Emergencies and Kids." Kids will be kids, and this video will cover what to do when those
unexpected emergencies happen. The video will be available in the coming month.